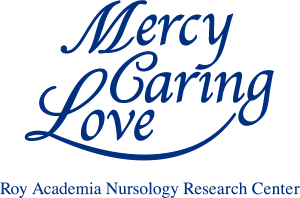 Concept
Roy Academia Nursology Research Center
-Mercy, Caring and Love-
St. Mary's College, in carrying out its education and research founded on the spirit of Catholic love, pursues its goals of cultivating a scientifically-based nursing practice ability based on a superior level of knowledge/skills and nurturing sincere, competent persons of talent able to contribute widely to the health of human society.
Concept
 The Roy Academia Nursology Research Center aims to explore Mercy, Caring and Love through the avenues of both practice and education, which are executed across three departments: educational program development, postgraduate education, and continuing education.
The educational program development department facilitates education, practice and research based on the Roy Adaptation Model, conducts activities for the Roy Adaptation Association of Japan (RAA-J), and develops programs that enhance nursing skills for undergraduate and graduate students.
The postgraduate education department works with a wide range of students, from those planning to continue their research post-graduation to those conducting activities as clinical nurse specialists (CNS). Faculty members also assist students with research as well as offer counseling to undergraduates interested in pursuing a graduate degree.
The continuing education department is responsible for developing the curriculum for use in the wards at St. Mary's Hospital, and continues to reform the currently-used clinical ladder education program to include elements for which nurses can receive continuing education credits. The department also offers a continuing education program for nurses who work in community-based settings.
©St.Mary's College